Missing code "blocks" after update...
(Bugs)
...at least that is what it looks like. I just updated from 2.1 to 2.1.1 and had to edit the css file to make it work on "my" forum which seems to work out okay but it looks different as the the problem seems that I have only two options to choose from and not so many as on this forum...? Did I do something wrong or is there already changed more after the uploaded version 2.1.1.
Not that this matters much though as those codes are never used on my forum anyhow...perhaps something to turn on/off within the forum settings?
My forum:

This forum: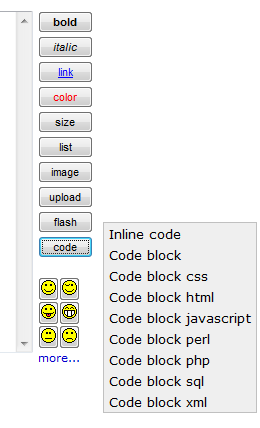 ---
Missing code "blocks" after update...

- Bert, 2009-07-09, 18:35